FQXi Workshop on "Quantum Sequential Measurements and Complexity"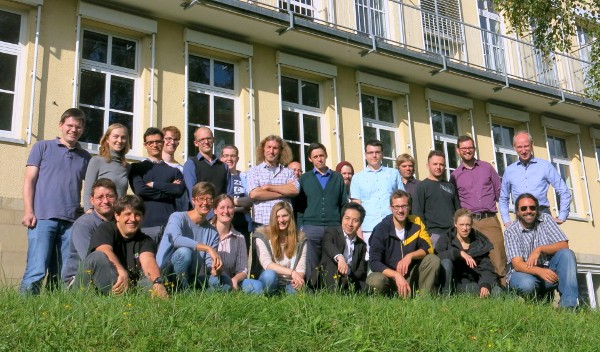 Scientific aims:
In quantum information processing, sequential measurements have recently attracted increasing attention. This is motivated by their importance for quantum contextuality and measurement-based quantum computation, but also by their experimental feasibility. On the other hand, the analysis of time series is a central problem in complexity theory. This workshop should bring together researchers from different fields with the aim to understand better the structure of quantum sequential measurements, their correlations and complexity. The workshop will be informal with around 25 participants so that enough time for collaborations and discussions is guaranteed. Topics include the characterization of sequential quantum correlations, hidden Markov models, \epsilon-machines, time-series analysis, and quantum contextuality.
Time and Place:
Siegen, 22/09/2014 -26/09/2014

Structure:
Most participants arrive on Sunday, the talks will be scheduled from Monday morning until Wednesday noon, Thursday is left for discussions, and Friday is departure day.
Program:
Download of the program and the poster.

Invited speakers & participants:
Pawel Blasiak (Cracow, Poland)
Dan Browne (London, UK)
Tom Bullock (York, UK)

Adan Cabello (Seville, Spain)
Clive Emary (Hull, UK)
Mile Gu (Singapore)
Teiko Heinosaari (Turku, Finland)
Jan-Ake Larsson (Linköping, Sweden)
Clarissa Lee (Duke, USA)

Alex Monras (Barcelona, Spain)
Daniel Reitzner (Bratislava, Slovakia)
Katja Ried (Waterloo, Canada)

Fabio Vallone (Pisa, Italy)

Karoline Wiesner (Bristol, UK)
Iagoba Appelaniz (Bilbao, Spain)

Otfried Gühne (Siegen, Germany)
Costantino Budroni (Siegen)
Roope Uola (Siegen)
Felix Huber (Siegen)
Sabine Wölk (Siegen)
Frank Steinhoff (Siegen)
Sanah Altenburg (Siegen)
Marius Paraschiv (Siegen)
Nikolai Miklin (Siegen)
Tristan Kraft (Siegen)
Jannik Hoffmann (Siegen)
Christina Ritz (Siegen)

Organization:
Adan Cabello
Otfried Gühne
Jan-Ake Larsson
Daniela Lehmann
Roope Uola
Funding: